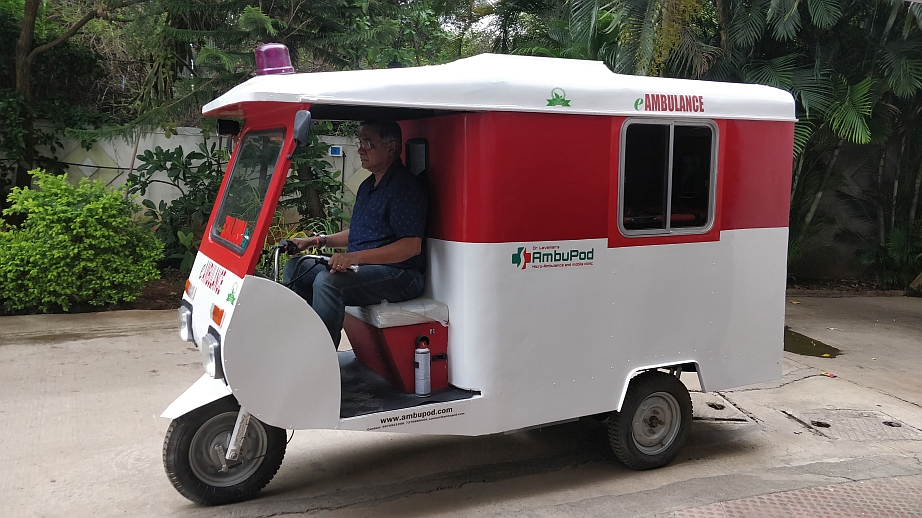 ---
A winning proposition for every stakeholder
Designed by a doctor, we have put in thousands of hours of effort to ensure a powerful product that can fill a vital gap, not just in India, but also globally. Our focus was to make it a winning proposition for every stakeholder.
Let us now see the winning proposition from each stakeholder's eyes:
The Rural User
1. A clinic that provides complete primary care services daily (or even 24/7 depending on the service agreement)
2. A fully loaded BLS (Basic Life Support) ambulance available 24/7 within walking distance of every villager. (The AmbuPod can even be upscaled to an ALS Advanced Life Support or cardiac Ambulance) 
3. Quality based care with the MBBS doctor consult being 1/2 the cost of that in Urban areas.
4. Medicines costing 40 to 50% less 
5. Availability of services within walking distance 6. Polite, well trained Clinic managers speaking the local language
7. Up-time 99% or more
8. Prescribed Medicines availability being 100%
9. Immediate Referral for specialist services or admission to hospitals in relevant cases
10. Availability of Basic lab tests, ECG etc at site
11. Patient data (EMR) maintained in confidential and encrypted format on the cloud
12. Village Heads can request for AmbuPod services at their village and if found technically feasible, could be setup within a week! 
and more....
The Urban User
1. Ambulance availability even in crowded localities and narrow lanes because of it being a narrow track vehicle.
2. Better at navigating traffic jams as the AmbuPod can even run on sidewalks and cycle paths to reach a hospital ASAP.
3. Fully equipped.
4. 'Clinic at your doorstep' model on demand
The NGO/Municipal corporation
1. Extremely cost effective
2. The patent (pending) AmbuPod. A fully equipped mobile clinic, telemedicine node and micro-ambulance (for a full-size patient, yet smaller than a mini-ambulance) 
3. Does not need a dedicated ambulance driver
4. Fuel consumption: electricity (Max 80KM per charge)
5. Covers two to four times the area of a standard ambulance
6. Can simultaneously provide 2 to 4 pick-ups vis-a-vis a standard ambulance
7. Can be easily adopted to carry out camps, eye-checks, student health camps, mother and Child camps, cancer detection camps, HIV-AIDS camps, etc 2 to 4 times more than a standard mobile clinic.
8. Scalable to hundreds of localities/mohallas/villages in months instead of years
9. Cost of scaling up would be as less as 1/4th that of a standard mobile clinic.
10. Operational costs could be as less as 1/6th that of a standard mobile clinic.
11. AmbuPod clinics could be permanently sited at various localities/mohallas/villages on a PPP mode to provide daily, quality based services.
12. and more....
A Health Insurance Company
1. Would enable insurance cover of a large rural population so far literally untouched.
2. Would ensure monitoring of the covered population through preventive and primary care services ensuring a healthy population, lower admissions and therefore lower number of claims.
A Pharmaceutical company
1. Regular Bulk purchases of effective, certified and tested generics from a single company to cover thousands of villages.
2. Positive publicity and brand recall
The Government
1. Quality based primary health cover for 1000s of villages
2. Being of a PPP (public-private partnership) no issues wrt ensuring efficiencies and day-to-day administration.
3. Extremely low cost to setup, run and maintain.
4. Quick, on-demand Scalability in weeks rather than months or years.
And more...
A hospital, Nursing Home or Lab
1. Ambulance purchase and operations costs will drop by as much as 75%
2. Quick set up of satellite clinics (AmbuPod Clinics) in rural areas to ensure good health, early detection of diseases and quick referral to network hospitals for admissions and reduction in morbidity and mortality of the covered population.
3. Increase by 200 to 700%, the population covered by a networked hospital, lab or Nursing home
4. Regular reminders at the satellite clinics (AmbuPod Clinics) to ensure monitoring and treatment of Lifestyle diseases through the specialists of the hospital thereby ensuring better health.
5. Self pride from the fact that the said organisation would cover a larger population ensuring a healthy outcome and ultimately the growth of our country as a whole.
6. Brand growth, recall and publicity
And more...
Learn how you can book an AmbuPod for your village/locality. Call Dr. Lavanian at 9970921266 / 7276889444 or email contact@ambupod.com
---
LYNK AmbuPod Pvt Ltd - © 201

7

-2020